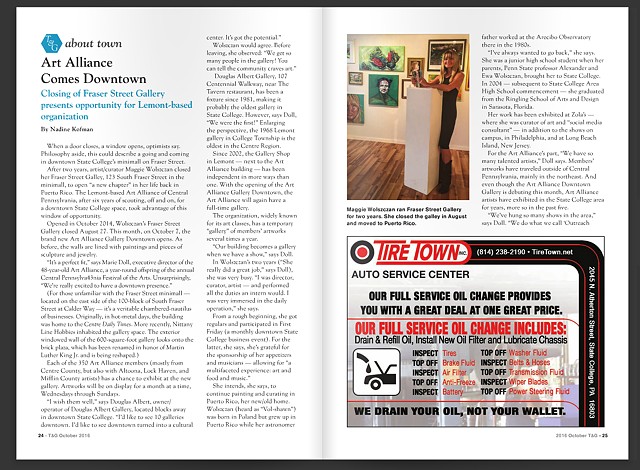 The Fraser St. Gallery closed its doors as of August 2016.
It has been a phenomenal ride, full of joyful experiences and surprises.
Thank you to all of our patrons, music sponsors, food donors, exhibiting artists, guest musicians and visitors! We could not have made it this far without your incredible support.
Here is a list of our most generous sponsors!
Allen St. Grill
Anthym Running
Artemis Massage Studio
The Atherton Hotel
Beck Psychotherapy
Bixi Awotan
Cafe 210
Cherry Lane Salon
Faccia Luna
Fasta Pasta
The Fraser St. Deli
Gigi's Restaurant & Wine Lounge
Harper's
Kitchen Kaboodle
Mclanahan's Downtown Market
Miska & Reini Jewelers
The North Club
Rotelli
Sercy
Spectacles
State College Spikes
Weinken Wealth Management
Kissinger, Bigatel & Brower
Your Cigar Den
A special thanks to all of the talented musicians that graced our space over the years!
Danny Brumbaugh
Ronnie Burrage
Eli Byrne
Sean Farley
Eric Farmer
Cole Hons
Karl Leitzel
Tyne Palazzi
The Tommy Roberts
Tsk Her
Riley Roth
Harold Taddy
Staci Glen Tibbetts
Robin Yukiko